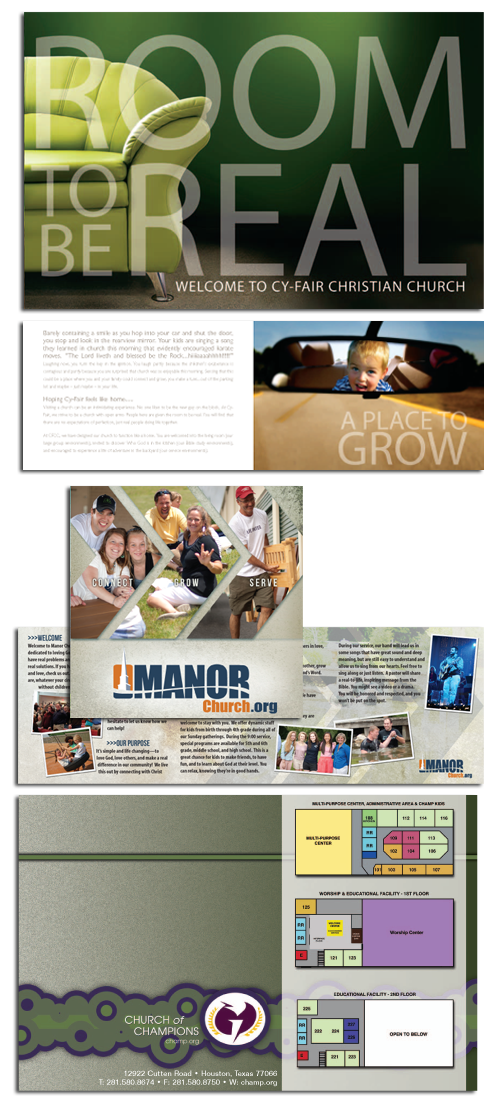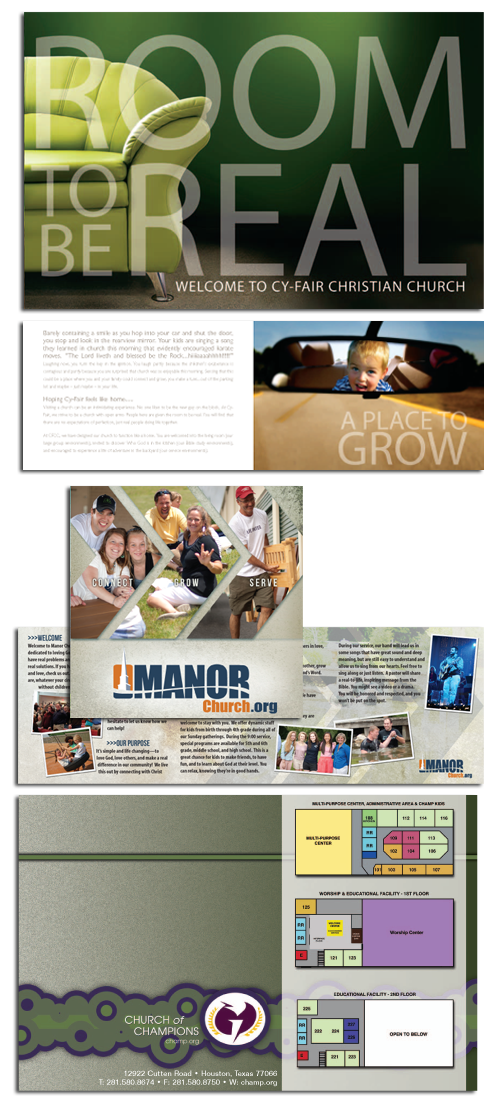 Remember what mom said, "You never get a second chance..."
We think one of the greatest weaknesses in churches today is also one of the easiest to remedy; giving their guests a first-rate experience. Every church should have a concise brochure of booklet to put in the hands of every visitor.
We believe your visitors should leave armed with all of the information they need to know about your church — all presented in a clear, concise manner pointing them to the next step. We also recommend that you make them feel special by giving them a memorable, but inexpensive gift. Churches that implement our system routinely see visitors much more open to sharing information with you and asking questions about your ministry.
We offer a assortment of tools that will put your visitors at ease and encourage them to find out more about your church. We want to partner with you to help your church give your guests a remarkable first-time experience!
Guest Booklets & Brochures
Visitors often leave a church with the church knowing more about them than they know about the church! Usually they leave with an armload of neon-colored papers about every ministry, cook-out, retreat, etc. And have you noticed how many churches seem to think that they must have those little sheets that are "stair-stepped" in a little folder, each one shorter than the next? Must be something they teach in Seminary?
There's a better way
Our Guest Booklets come in a variety to fit any church. They are fully customized with your church information, ministry information and other pertinent information—all in beautiful, full color. These look great inserted in our Guest Gift Bags.
Features
Attractive custom design that reflects your church personality
Opening Welcome letter from Pastor
Information on Church Ministries
How to take "the next step"
Campus map on back to conveniently find Sanctuary, classes, etc.
Other custom options available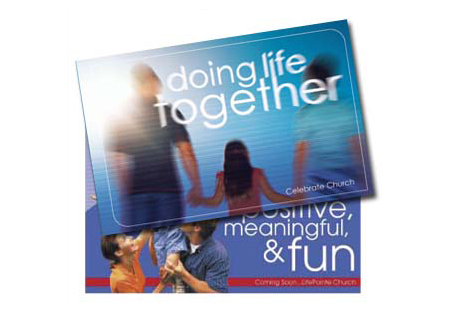 Booklet Style
Our booklet style Guest Packets come in a unique size of 8.5" x 5.5" when folded. Opens to 5.5" high x 17" wide. Comes in 4, 8, 12 and 16 page versions. Printed on 100# cover stock.
Guest booklets are ideal for presenting the overall ministries of your church, next steps to become a member and a campus map.
We can even customize them with a pocket in the back so you can place current events CD/DVD or news.
4 Page
500/$479
1000/$525
2500/$603
8 Page
500/$1008
1000/$1045
2500/$1270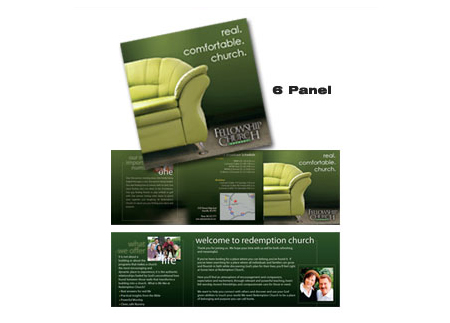 Mini Books
Mini Books are similar in size to a CD/DVD folder. Comes with 2, 3 or 4 inside panels. Printed on 100# glossy stock (not cover stock).
The Mini Book can also fit in a CD/DVD jewel case as an attractive cover (4.75" x 4.75"). MiniBooks can also double as a mailer. Just tab the sides and mail.
4 Panel Pricing
1000/$375
2500/$450
5000/$525
6 Panel Pricing
500/$667
1000/$839
2500/$995
8 Panel Pricing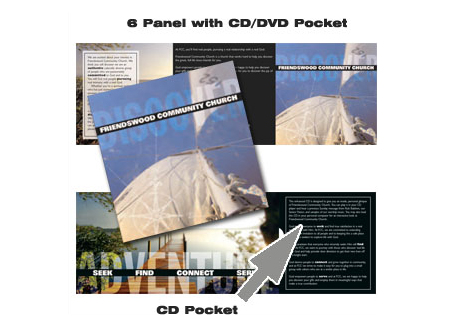 CD/DVD Packets
Our CD/DVD packets are designed to hold a welcome CD/DVD or special insert (5" x 5").
Similar to the MiniBook with the addition of a CD/DVD Pocket.
4 Panel Pricing
6 Panel Pricing
Custom Options Available
Many of our standard products are a direct result of developing a custom piece for a church. Maybe you need a different size, more pages, tear-off forms, or just a different look.
Call us to discuss your special needs. We'll develop a Guest Booklet especially for you.