Make Campus Navigation Easy with Exterior Signage
Nothing is more frustrating to guests and new members than not being able to find their way around. One of the advantages of working with Mustard Seed Studio for your signage needs is our ability to offer an assortment of standard signage as well as custom solutions.
Most of our sign options come in an assortment of styles and colors to match any church decor.
Explore the categories below. If you don't see what you need here, contact us. We'll find a solution.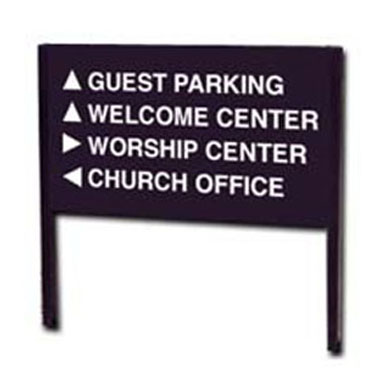 In-ground Directional Signs
Are you leaving your visitors searching your campus for where they need to go? We recommend directional signage at every entrance of your church campus. Our signage offers a great solution for outdoor directional signage.
Each Directional Sign features strong folded aluminum construction with a sleek 2" deep flush-faced panel. Side posts are sturdy 2" x 4" two-piece construction and adjust from 5 feet to 8 feet tall. Directional Signs feature quick and easy assembly. Standard color is Dark Bronze. Other colors are available.

Pricing includes 1/2 hour of design time. Additional time will be billed at $50/hour.
Directional signs sizes and pricing:
12 x 28
$470
20 x 20
$480
20 x 28
$500
28 x 20
$500
20 x 44
$540
44x20
$540
44 x 28
$585
36 x 48
$847
36 x 60
$1059
36 x 72
$1100
Includes up to 4 lines of copy. Add $40 for non-standard colors or for an extra line of print.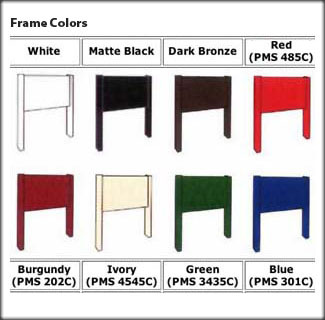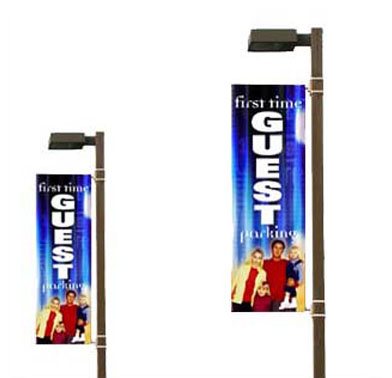 Light Pole Banners
Do you have special parking for your guests? These attractive banners can't be missed. Also great for promoting upcoming events or yearly themes.

Each colorful banner is 24" x 72" and is printed on both sides. Banners do not come with brackets for mounting.

Price: $375

Price includes 1 double-sided banner  with wind slits, grommets and pockets on top and bottom.  Brackets are not included.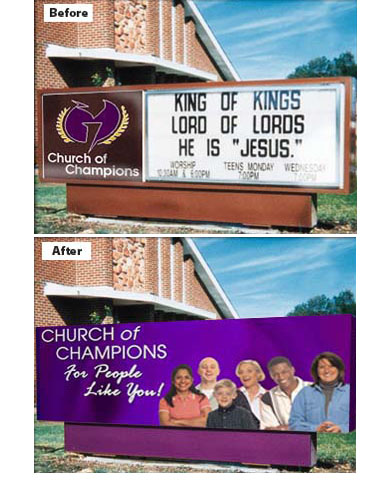 SignWraps & Billboards
Our SignWraps started out as a temporary solution for one client. It wasn't long before these were one of our most popular items. SignWraps can be configured for most any sign that is in square or rectangale.
You can also easily build your own wooden frame and cover it with a SignWrap. Great for permanent solutions or advertising special events or services.
Available in single or double-sided versions. Call for estimates or more information.