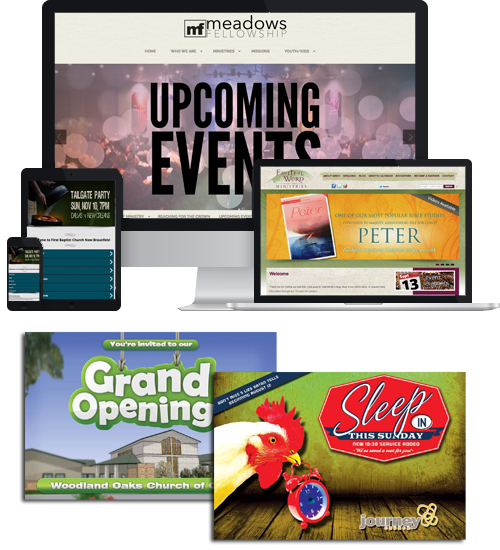 Easy to Update Websites
Cutting-edge websites have never been easier to update, yet cost so little!
You won't believe all the great looking websites available—with all the bells & whistles. Our sites are so easy to update, your grandmother could be your webmaster!
We don't believe you'll find a better looking church website, loaded with the features you want, for less money! Browse our 
Design Themes
.
Easy
Update from any web browser. So easy, even your grandmother could do it! You'l be editing your site in minutes with no special training!
Responsive
Our new websites are just as beautiful and functional on a mobile device, pad or desktop computer. Automatic resizing makes your site truly cross-platform!
WYSIWYG Editing
No guess work. What you see is what you get. Our Online Page Editor is similar to composing a simple Word document or email.
Slideshow
Rotating event slideshow helps promote upcoming events, ministries and more. Each slideshow image can link to other pages for extended information.
Online Sermon Player
Easily upload sermon MP3 audio files. Add titles, descriptions and more. Podcasts and reader (XML) files are automatically created.
Event Calendar
Seamlessly integrates with Google calendars, add events by color-coded categories and more. Already have a calendar module you love? Most calendars can be embedded in our pages.
Invite a Friend Module
Create email invites for special events and sermon series. Your members will love inviting friends and family with custom evites!
Online Donations
Never miss another contribution! Receive online one-time or recurring contributions using our integrated Paypal module. Donors do not have to have a Paypal account.
Contact Form
Make it easy for visitors and members to ask questions. Our Contact Form captures name and email address and makes it easy to submit questions and more.
Unlimited Pages
Unlike other systems, we don't limit your number of pages and we don't charge you based on the number of pages you have. One low monthly fee covers it all.
Document Storage
Easily link to PDF files, Word docs and more. Just browse to your file, click upload and link to your file. It's that easy. With over 1GB of storage space, there's plenty of room.
Want Video?
Easily and seamlessly embed video from YouTube® and Vimeo®. Your video will show up directly on your web page.
Toll Free Support
Have a question or problem? We're just a phone call or email away. Most support requests are handled within hours, not days like other providers.
Password Protected Area
Want to secure content for member's eyes only? We offer a Password protected Member's Area. Member's also get to choose their user name and password.
Email
Email is included at no extra charge. Receive up to 50 email addresses at your domain. We also offer webmail service too. We also offer IMAP service if desired.
Custom Domains
We can help you register or transfer your domain name. Use yoursite.com or yoursite.diychurchsites.com. Want a sub-domain? We offer that too... music.yoursite.com.
Want Statistics?
We've got you covered.We provide as much or as little data as you desire. Check the number of visits, number of unique visitors, visit duration and more.
Maps & Directions
Make it easy for visitors to find you. We embed a user-friendly Google map. Visitors can easily get door-to-door directions to your church.
Multiple Editors
Want to assign different editors to specific pages? We can add as many editors as you desire AND limit them to specific pages.
Social Media
We include Facebook and Twitter badges or "Like" buttons on your pages. We can also embed statuses and feeds. Updating your home page can be as easy as tweeting!
Bible Search
Want to offer a Bible search feature? We can embed the Bible search feature from biblegateway.com. Web visitors can search the Bible in 15 translations.
Search Feature
Our sites harness the power of the Google search engine for your search box. Only your site is searched and results show up on your site with no external ads.
Enews/Email Newsletters
Want to communicate in style? Send professional HTML enewsletter via email that match your site.* Track opens, bounce-backs and more. (*Extra fee required when used).
Search Engine Friendly
Clean code and user-friendly URLs mean you'll be found. We don't use a bunch of "gibberish" in your page URL.